Owen Wilson will soon voice Hobbes in Calvin and Hobbes the Animated Cartoon Adventures using the same voice he used as Lightning McQueen from 'Cars' and 'Cars 2'.
Owen Wilson
[[

|400px]]


Date of Birth

November 18, 1968

Birth Name

Terence Frances Kelly

Birthplace

Dallas, Texas, USA

Age

42-years-old

Occupation

Movie actor, writer and voice portrayer

Years Active

1994-2011

Best Known Voice Portraying Roles

Lightning McQueen in 'Cars' (2006) and 'Cars 2' (2011)

Movie Acting Roles

Kevin Rawley in 'Meet the Fockers' (2004) and John Grogan in 'Marley and Me' (2008)

Other Voice Portraying Roles

Coach Skip in 'Fantastic Mr. Fox' and the title character in 'Marmaduke'

Other Movie Acting Roles

Nicky in 'Permanent Midnight'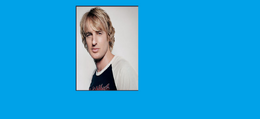 Ad blocker interference detected!
Wikia is a free-to-use site that makes money from advertising. We have a modified experience for viewers using ad blockers

Wikia is not accessible if you've made further modifications. Remove the custom ad blocker rule(s) and the page will load as expected.