Not to be confused with Calvin and Hobbes: the series.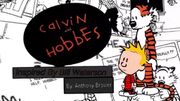 Calvin and Hobbes (The Web Series) is a web show created by YouTuber ChannelHy (Anthony Brower). Each of these 3-4 minute episodes are based on animating Calvin and Hobbes strips, making them have original plot, but a lot more details and visuals.
Each episode begins with a disclaimer, secondly an animated version of a weekday strip, thirdly the instrumental theme song, and after that an animated version of a Sunday strip, and finally the credits with some more instrumental music.
Episodes
Edit
Ad blocker interference detected!
Wikia is a free-to-use site that makes money from advertising. We have a modified experience for viewers using ad blockers

Wikia is not accessible if you've made further modifications. Remove the custom ad blocker rule(s) and the page will load as expected.